Our Sexy Bucket List date night includes everything you need to embark on your journey to complete the ultimate Sexy Bucket List! We've provided three scenarios below for you to begin your sexy bucket list. Use the notepad provided in your box to continue making your list- and enjoy checking them off together!
Date Night Playlist
Sexy Scenarios
Scenario 1 - Tickled Pink

This scenario uses the feather tickler. This tickler pairs beautifully with romantic love-making and will help encourage adventurous exploration of each other's bodies and sensory discovery.

Light touches on the body stimulate the skin and invite blood to the surface to increase sensitivity and heighten pleasure.

Experiment with different types of touches, using some barely-there brushes and other longer more drawn-out strokes. Discover what your partner likes and how they react to each caress. Try a blind fold for even more sensory exploration.

Follow the tickler with your hand or lips or tongue for more fun. Combine with butterfly kisses (eyelashes), gentle whispers in their ear or other playful and romantic touches.

Try this Tickle Strip Tease: Use the tickler in any way you wish, and if they laugh, they remove an article of clothing. If they don't laugh you remove one.
Scenario 2 - Wicked Quickie

This scenario uses Wicked Lube. We've created a list of places where your quickie might take place:




Kitchen

Dining Room Table

Stairs

Couch

On the Washer or Dryer

Backyard

Walk-in-Closet

In the Car

In the hall against the Wall

In Bed




If you're feeling brave have your partner pick a number between 1-10 without looking and go to that location for your quickie.




If you'd rather decide together, sit down and rate your favorites from 1 to 10 (number 1 is top!). Add your two numbers together and the location with the lowest score wins!




Tips for Quickies: Mix it up by keeping your clothes on.




Talk to each other to get in the mood and feel more connected quickly.




Use lube to help things move along quickly.




Foreplay all day.




Do or don't have intercourse, just have a great time.
Scenario 3 - Sex in the Bath

This scenario uses the bath bomb and chocolates.* Use this checklist to create your fantasy bathtub encounter with your partner. Each of you (on your own printable or phone) check off all the things on the list you think would create the perfect experience. Compare lists and try everything that overlaps on your list. <3 You can also add your own ideas to the list!

Warnings: We recommend using bath bomb AFTER sex, during can increase risk of UTIs. Or use bath bomb in the bath for light foreplay then move to the bed or shower for intercourse.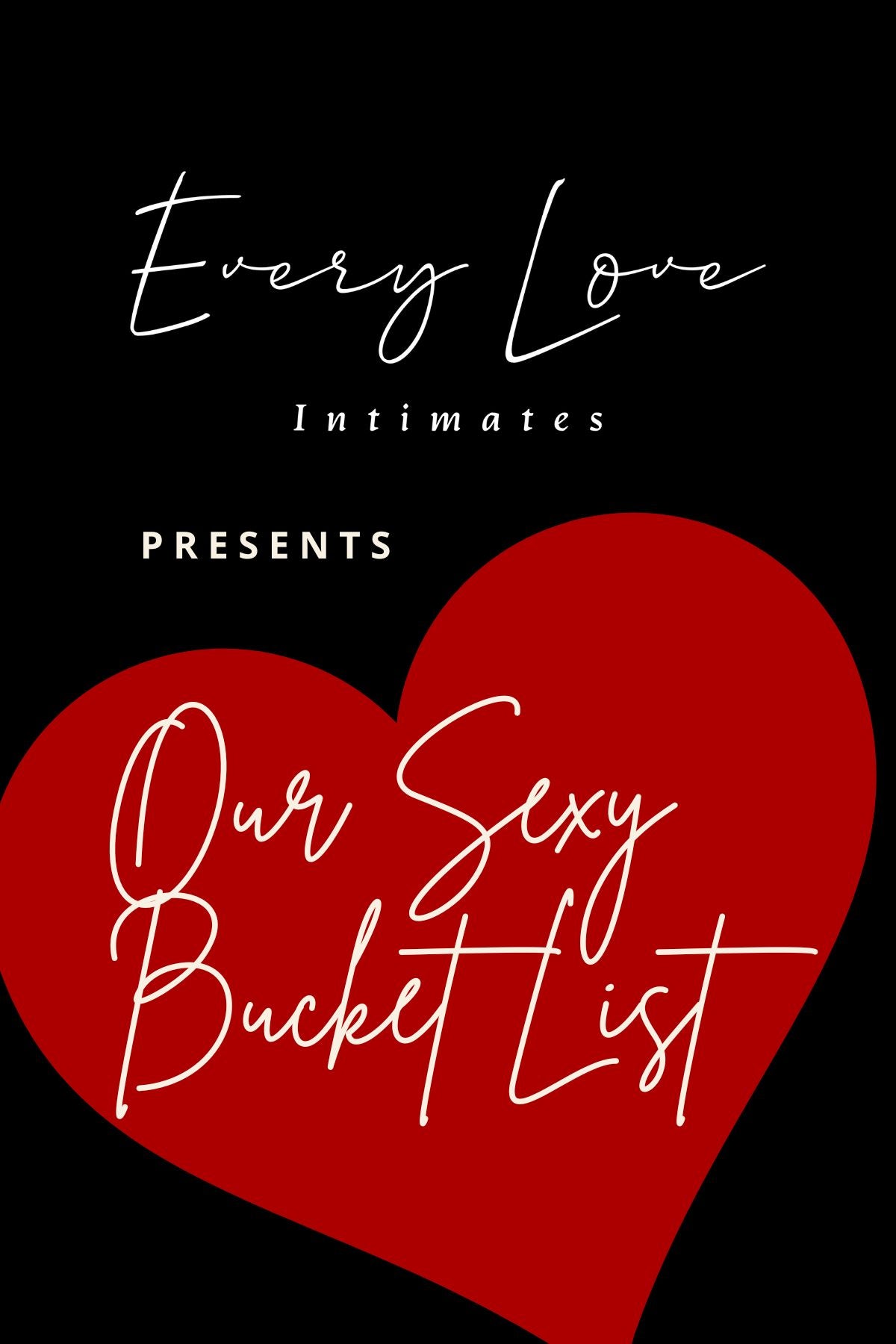 Item List
Red Body Suit
Feather Tickler
Our Sexy Bucket List Notebook and Pen
Wicked Lube
Milk and Honey Bath Bomb
Chocolate Truffles
Rose Petals
Intentional Intimacy Prompts 
1. What has been your favorite date we've shared?
2. What is one quality I have that you feel strengthens our relationship?
3. Name one activity you would like to add to Our Sexy Bucket List.
Sexy Bucket List Ideas
Destination

In the shower or bath
Out in nature or by a pool
On the couch
On the washer or dryer
By the fire

Time of Day

As soon as you wake up
At midnight
On your lunch break
Afternoon delight
Before going out on a date

Adventurous

Role play something you've always desired
Sexy dance/ Lap dance 
Use a vibrator
Try a new toy you've never tried
Use a feather tickler, paddle or whip

Playful

Netflix and chill (Have sex while you watch Netflix)
Sexy board game
Grab some body paint and get messy
Strip poker or dice
Naked twister

Positions

Oral only/69
Corkscrew
Ballet Dancer
Spider
Butterfly 
G-whiz
Doggy style
Wheelbarrow
Caboose
Pretzel Dip

Foreplay

Dirty talk to each other throughout the day
Have a sexy photo shoot
Send steamy texts to eachother throughout the day
Try edging (get almost to climax and then stop, as many times as you want)
Write down what you will do to the other and read it aloud